cinemania scans
---
BRAKING DAWN FILMAS I RIO I NOVEMBER
Breaking Dawn ska i November filmas i Rio (Brasilien ) inför Isle Esme Scenena!
Det ryktas också om att Robert skulle ha börjat ta nån slaks båt lektioner/öva sig inför att köra båt vid en scen i Isle Esme scenena !
President of RioFilme 

Sérgio Sá Leitão (such a fancy name)

confirmed that Breaking Dawn will be shot in Rio de Janeiro! He has been hinting at it on his twitter and yesterday he finally confirmed that in November Robert Pattinson will grace Rio with his gorgeous self.
/lina
---
SVENSKA ECLIPSE DVD:N
/lina
---
THE FIRST 'BREAKING DAWN' CAST DINNER WITH DIRECTORS & PRODUCERS IN BATON ROUGE
The Breaking Dawn cast is filming for 7 months and last night kicked it off with a cast dinner at 
Fleming's
Steakhouse in Baton Rouge. They didn't list Stephenie Meyer being in attendance but they did say producers.
H
ollywood Life
reports:
And our insider tells us that the cast (Taylor, Kristen, Rob, Bill Condon, producers, Nikki, Ashley, Kellan) got to the restaurant around 8:30 PM and stayed until 11 PM! The stars had a full five-course meal and ate everything from Prime NY Strip steak, crab cakes, soup, salad
and they even had "fresh redfish" flown in especially for the occasion!
They finished their meal with a choice between fresh berries,
cheesecake, and creme brulee.


The cast, we're told, was "extremely nice" and everyone remained seated throughout the night, instead of getting up and walking around the joint. Our source tells us that they even asked for the "music to be
turned down" so they could hear themselves talking to each other!
Rob wore a vintage T-shirt with a shirt unbuttoned over it with slacks, and Kristen wore jeans. They were seated right next to director Condon, Ashley and Nikki, and spent most of the night talking to them.
Via:Twifans
/Lina
---
ECLIPSE = DEN BÄST SÅLDA TWILIGHT SAGA FILMEN
Box Office Mojo released the most recent figureds for The Twilight Saga: Eclipse and after reaching $300,531,751 in the US and $690,131,507 worldwide the movie has now beaten Twilight and New Moon and has become a Twilight Saga best seller.
/Lina
---
Ny bild från Eclipse
Bilden är på Bella då hon besöker sin mor!
/lina
---
BILDER FRÅN BREAKING DAWN INSPELNINGEN
/Lina
---
Twilight i Frida nr.22
i Nyaste Frida nr.22 finns det ett tips om hur man designar ett Bella Swan Twilight rum ! och så är Kristen med i några små artiklar!
/Lina
---
MELISSA ROSENBERG EXPANDS ON THE THE BREAKING DAWN STORY ~ GOOD OR BAD THING?
Fans of the "Twilight" films are going to have a little added story to sink their teeth into.
The previous movie adaptations of Stephanie Meyer's vamp-lit juggernaut have gone pretty much by the book, but with the final novel "Breaking Dawn" being broken into two feature films, screenwriter Melissa Rosenberg tells PopcornBiz she's enjoying a little more leeway to add some fangy flourishes of her own.
"I did actually [get to do that], because we got to fill out the story because we're doing the next two movies," said Rosenberg. "So there was room to play and expand on some of the characters that Stephanie introduces. That was a lot of fun."
"It's a much more grownup movie – It's an adult story," the writer said of evolving the franchise beyond its high school origins. "The stakes are raised even higher because it's not the story of teens. It's the stories of grownups, so we're talking about marriage and children and family – and these are pretty grownup things, but sexy."
If you haven't read the books, beware of the SPOILER up ahead.
Rosenberg says the highlight of the story will be seeing Kristen Stewart's character Bella become a vampire at long last. "Kristen gets to make the transformation and that is going to be so exciting to see. [Director] Bill [Condon] and I talked about it in developing this script and the screenplay. Now she's going to embody it. It's going to be so great."
Rosenberg, who penned all of the "Twilight" films and previously wrote for Showtime's "Dexter," hasn't quite adjusted to the fact that, minus a few rewrites, her bloody good run is coming to a close.
"It's a shocking experience after four years to not be writing 'Twilight!'" she said.
/Lina
Källa:Twifans
---
BREAIKING DAWN ; KOMMER ÄNDRA FOLKS SYN PÅ BELLA SWAN
"Twilight" fans love to debate their favorite novel in Stephenie Meyer's bestselling vampire series. Kristen Stewart says she has her own favorite -- and it's the most explicit and intense of the bunch.
"This one's really good. This one really goes there, finally," said the actress who plays the iconic Bella Swan of "Breaking Dawn." "This one is like the forming of a family. You see everything really come to fruition because I feel like [Bella] has sort of gone through an accelerated growth period."
In November, Stewart will reprise the Bella role when she begins filming the first half of "Breaking Dawn," the fourth movie in the "Twilight" franchise, which will be directed by
Bill Condon. The story follows [spoiler alert: if you aren't familiar with "Breaking Dawn," skip to the last paragraph] Bella's marriage to vampire Edward Cullen (Rob Pattinson), as the two finally consummate their relationship and Bella becomes pregnant.
"At this point," Stewart says, "you do accept [Bella] as a mom."
Because their child is half-human and half-vampire, Bella's pregnancy is riddled with complications -- all leading up to a dramatic birth scene, in which Edward tears open Bella's stomach with his teeth to save their baby.
There has been speculation about how the graphic scene will be depicted on screen. Stewart acknowledges it's a "crazy concept," also describing werewolf Jacob's hearing "vampire teeth against vampire skin" during the childbirth scene.
Just how that will play out on screen, though, has yet to be determined. "I've seen the script," which tracks closely to the book, she says. "But it depends on how they shoot it."
Stewart, who was speaking to 24 Frames to promote her new independent drama "Welcome to the Rileys," said she thinks her "Twilight" character has been misunderstood. "Bella's criticized sometimes for being, like, you know -- I don't know, selfish and overly emotional and silly and frivolous and annoying and young," said Stewart. "That's sort of like a very judgmental way of looking at it."
/Lina
---
31 SEXIEST MOVIE VAMPIRES (GLAMOUR MAGAZINE)
1. Twilight's Edward Cullen
Played by: Robert Pattinson
Twilight's resident Sex God, Robert Pattinson has brought new meaning to the term 'pale and interesting'. Like all vampires, Edward has a taste for blood, but that's all too easy to forget when you look at his ripped torso and intense eyes. A thing of beauty…
Grattis till Edward som kom på första plats !
/Lina
---
Breaking Dawn

I've got Breaking Dawn baby news for you! 

Nope, none of the stars are expecting a new bundle of joy (at least not that we know of), but... 
Jackson Rathbone tells me that the cast is very impressed by screenwriter Melissa Rosenberg's treatment of the much-talked-about birthing scene in BD. "I think people are really really excited and surprised about how tastefully it can be done," he said at Spike TV's Scream Awards. 
Nikki Reed echoed Rathbone's enthusiasm. "It's intense," she said. "It's really intense. 
"I play a pivotal role in this because this is what Rosalie has always wanted, you know what I mean?" she continued. "So, I'm working really hard. I'm with my acting coach every day...Like three hours a day, I'm with her. I really care about this and I want it to be good." 

Although they'll be shooting both BD movies until next spring, Rathbone and Reed know that saying goodbye when they wrap won't be easy. "I've had an amazing time working with the cast and you know, the fans have been incredible and they've been so supportive of all us," Rathbone said. "It's going to be sad." 
"It's not ending for a long time," Reed said with a big smile. "But I'm going to be sad and here's why: I'm working with really great people, people that I love. I've worked with some really talented directors. I've traveled all over the world with the series."
Källa
/Lina
---
Eclipse kalendern ' Bäst sålda kalendern 2010'
Eclipse
calendar is one of Amazon's best selling 2011 calendars. Find out more below and let us know if you own any Twilight/New Moon/Eclipse themed calendars.
The best-selling* calendars on Amazon according to the regional websites are:
Amazon.com – The Twilight Saga: Eclipse Movie 16 Month Wall Calendar 2011 (12×12) ($7.74/€5.48)
In the United States the best-selling calendar is themed around the third movie in the series based on Stephenie Meyer's popular Twilight series of books. The movie Twilight Eclipse was released on June 30.
Amazones bäst sålda kalender 2010 är denna Eclipse kalender >
/Lina
---
Breaking Dawn inspelningen
---
Ny breaking dawn cast
THE AMAZON COVEN
Senna – Tracey Heggins


Zafrina – Judi Shekoni


Among the oldest vampires in the world, Senna and Zafrina are descendants of an ancient Amazonian tribe.  They have lived outside of civilization for centuries and therefore make no attempt to keep up a human facade. Though they drink human blood, the Amazons have long been allies of Carlisle.


---


THE EGYPTIAN COVEN
Amun – Omar Metwally



Kebi – Andrea Gabriel



Benjamin – Rami Malek
(bekräftad sedan tidigare)

Tia – Angela Sarafyan

The Egyptian Coven consists of Amun, Kebi, Benjamin, and Tia, with Amun as the leader. It is stated that even though they are not a biological family, they could pass for one. Amun is extremely protective of his family and fearful of Aro.
---
THE IRISH COVEN

Maggie – Marlane Barnes



Siobhan – Lisa Howard



Liam – Patrick Brennan

The Irish Coven, a relatively young group, was founded by Siobhan and Liam, but Maggie's talent made her an important element of it. They are not vegetarian but they are civilized.


---
THE ROMANIAN COVEN
Vladimir – Noel Fisher



Stefan – Guri Weinberg (inte bekräftad tidigare, men det har gått rykten)


The Romanian Coven is one of the oldest covens in the world and they were the ruling vampire family until they were unseated by the Volturi.  For that reason they harbor a centuries old resentment of the Italian coven.


---
THE AMERICAN NOMADS

Garrett – Lee Pace
(har också gått rykten om)


Mary – Toni Trucks



Randall – Bill Tangradi



Peter – Erik Odom



Charlotte – Valorie Curry

Turned during the Revolutionary War, Garrett has chosen to live a nomadic existence, wandering the world on his own. Garrett has never lost the rebellious spirit of his human life, and loves a good fight, always rooting for the underdog. Though not a vegetarian, Garrett is among Carlisle's closest and oldest friends.
Mary and Randall are American nomadic vampires.
Peter and Charlotte are nomadic vampires and mates.  They were created during the aftermath of the Southern Vampire Wars, in which Jasper was a key player.  They have remained friends with Jasper ever since.

---
THE EUROPEAN NOMADS
Alistair – Joe Anderson

A nomadic vampire from England, Alistair has a misanthropic, brooding personality and a deep mistrust of all authority.  Although he counts Carlisle as his closest acquaintance, he doesn't visit more than once a century.

Kopierat :TM
---
Eclipse soundtarck
---
Bella och Edwards break-up i New Moon bland "25 Best Break-up quotes"
Bella Swan (Kristen Stewart): "I'm coming with you!" Edward Cullen (Robert Pattinson): "Bella, I don't want you to come with me." Bella: "You... You don't want me?" Edward: "No." Bella: "Well, that changes things. A lot."
'The Twilight Saga , New Moon' (2009)
---
ECIPSE ÄR NOMINERAD TILL 6 PRISER
Den 16 oktober går Spike TV's Scream Awards av stapeln i LA. Kristen kommer att vara närvarande men man vet inte om det kommer vara någon annan också från TTS-skådespelarna!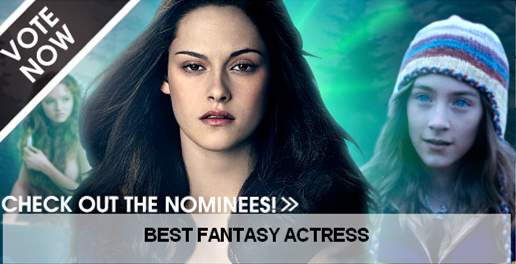 Ultimate Scream
Eclipse

Best Fantasy Movie
Eclipse

Best Fantasy Actor
Robert Pattinson (Eclipse)
Taylor Lautner (Eclipse)

Best Fantasy Actress
Kristen Stewart (Eclipse)

Best BreakOut Performance Male
Xavier Samuel (Eclipse)
/Lina
---
THE TWILIGHT SAGA: THE OFFICIAL ILLUSTRATED GUIDE
The bad news: It's not another sequel.
The good news: There will be plenty of brand-new details in The Twilight Saga: The Official Illustrated Guide, a reference book Stephenie Meyercreated to accompany her best-selling novels. According to a press release from Little, Brown Books for Young Readers, the $24.99 encyclopedia, which will go on sale April 12, 2011, includes "character profiles, outtakes, a conversation with Meyer, genealogical charts, maps, extensive cross-references, and much more," including art by Young Kim, who illustrated Twilight: The Graphic Novel, Volume 1.
I hoped we could incorporate as many details as possible, including character histories, like Alice's back story.".

Let's hear from Twilight fans–is this something you want for your collection?.

---
Ny snygg Eclipse DVD utgåva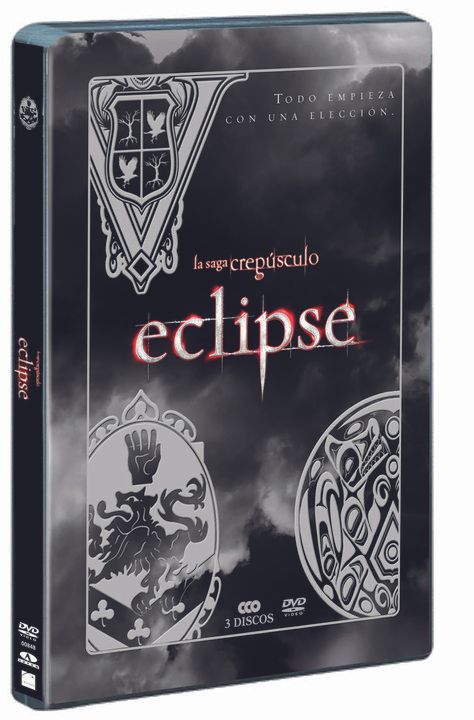 /Lina
---